The first place we went to on our trip was to see the Empire State building. It was Monday morning and not at all overrun with tourists which, by the looks of the vast but empty snaking queue lines meant we had chosen a good time. It's a phenomenal building especially to think that it stands proud of the surrounding buildings and yet was built nearly a century ago. It really sets the tone for the city. It must have been received with such awe when it was first built and all the other existing buildings would have been much smaller. I have to say it was expensive to go up it - $70 for two – but it was a great experience!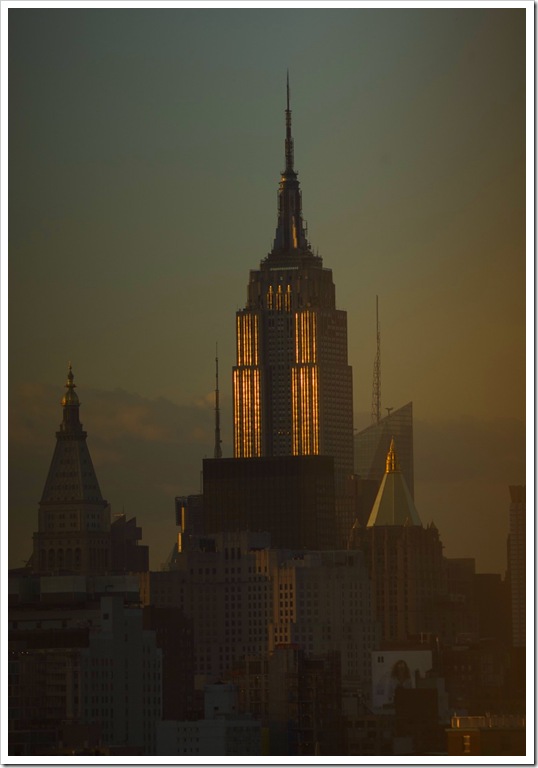 This was a view from the top which Ivan tiled to make one big photo: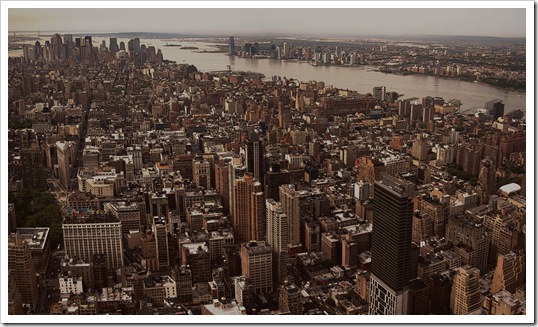 Here's one of the entrance in all it's Art Deco splendour:
Another day, Ivan was keen to sample the culinary delights of a New York breakfast and where better to head than Katz Delicatessen? This is the place where Meg Ryan enjoyed more than she expected in When Harry Met Sally – you know, the, "I'll have what she's having" scene.
It was just around the corner from our hotel so we called in and ended up with rather more than we expected to! Although not in that sense, I hasten to add, just that the food portions were HUGE. Without really knowing what we were ordering, we each received no less than THREE "sunny side up" eggs on buttered toast, with a substantial salami, a bowl of chips each (chunky ones not skinny fries, tea and orange juice. I practically had to roll out of the place – three eggs!!!