Last night I finished my spring scarf. Weaving can be such a roller coaster!
The scarf turned out completely different to how I planned – but for good reason!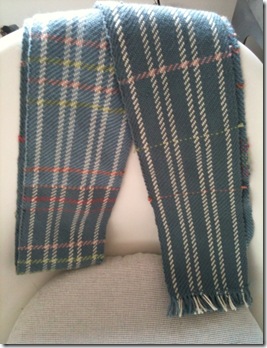 Originally this project was intended as a quick scarf to make using some lovely French-grey and white alpaca that I have left over. I am waiting for new wool to arrive for a wall hanging I'm getting very excited about – more on that later – so I just wanted to fill in some time.
I decided on a narrow 84 end warp with white stripes which you can see in the previous post. I threaded it onto the loom using a straight 2/2 twill draft on just 4 shafts and then planned the rest on my new weaving software, to try it out.
All good so far except when I started weaving I realised how many weft colours there were – it was going to take a lot longer than I anticipated not to mention all those ends!
I wove three samples:
(You can see larger pics by clicking on them.)
The pattern that stood out for me as the strongest was the plain one where the weft is the same colour as the warp – it just looks very classic and it maintains the lovely stripes.
So I decided to weave the scarf with that. All was going well until my nemesis, the free-styling gremlin, popped out from under my loom and told me to go off course!
I started adding a few colours – a salmon pink, a dusty pink, a pale lime green and a pale rose pink.
I got to the point that I really disliked it but I'd gone too far to turn back, I had to commit. I resigned myself to the scarf being a sample instead and all that lovely wool wasted.
So I got a bit bolder with it all and when I cut it off the loom, I surprised myself because I actually really like it!
Benita and Theresa commented that the alpaca would make very soft cloth – but in fact it's quite stiff! I wouldn't say it's coarse but it's much stiffer than the alpaca scarf I made before with the same yarn. The weave is much tighter this time but it feels nice nonetheless.