In my last post, many moons ago, I mentioned that I was weaving a rug. Well that's all finished now except that it morphed from the rug that I had in my mind to something else – as it often the case. I put this down to being very much an amateur weaver and I haven't yet reached the stage where I can produce what I have in mind. That, and I just have a change of heart and the project ends up being quite different. I don't see this as a problem but it can be a little frustrating when the change is caused by a technical issue that highlights my incompetence rather than being design-led.
Anyway I thought I would document the weaving process a little as I'd like to remind myself of these things, basically so I can beat myself up about it in the future. The rug warp was ecru Axminster carpet wool (which has some nylon in it too). It's very sticky and is intent on making huge knots whenever possible.
The weft was the same but, and this is where the changes start, it was originally going to be a variety of colours – sand, burgundy, turquoise, sky blue and some pale forest green. All lined up together the colours looked very nice indeed. The idea was to used a clasped weft (as in my previous project) but making triangles rather than individual lines.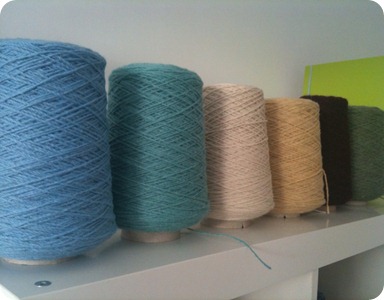 I came up against a few issues:
1. The ecru colour batches were way out, despite coming from the same order, meaning that I couldn't really do a 600 end warp as I had wanted. This of course meant that the rug would be no way near wide enough – it was touch and go anyway – for the floor I had in mind. So I had to use what matching ecru I had to make a narrower warp.
2. A little way into weaving I realised I had made 3 heddle errors – 3! So I fixed those and at the same time realised that the warp could really have done with being thinner yarn as the weft colour was being lost. Either that or I should have changed from tabby to a weft-faced weave, but by this time I was pretty livid with the whole thing so I corrected the errors and carried on with the sky blue and a royal blue clasped weft instead. It really wasn't what I intended but I really wanted to get some colour in there!
3. The warp ends broke on a couple of occasions as they are actually very easy to snap individually.
Now it's finished, I don't really know what to do with it. It could be a tiny little rug or it could be a little wall hanging – maybe for the nursery, more on that later – or I could just stash it away. Of course I still need a rug for the floor but I might not tackle that again just yet. On the upside, I was pleased with my hemstitch!