A few years ago I presented my parents with a bread maker, thinking this was the perfect gift as they always like fresh baked bread – who doesn't!
To my surprise they didn't take to it… so I took it back, back to my kitchen that is :)
Having recently reorganised everything in said kitchen I was able to make some space to set up the bread maker under the stairs where it wafts its smells up the stairs when it's nearly done.
I've never had much success with it before now but I am now determined to get it right. So I wanted to chart my adventures here along the way. Here's the recipe which seems to be the most successful:
225ml warm water
2 tbsp caster sugar
1 tsp yeast
4 tbsp vegetable oil
400g wholemeal flour
1 tsp salt
Small handful each of seeds/chopped nuts
1. Add the water, sugar and yeast to the pan and allow to stand for 10 mins – it should bubble slightly.
2. Add the oil, flour, salt and seeds (poppy seeds, whole sesame seeds, chopped hazelnuts)
3. Set the bread maker to the wholemeal brown loaf setting and in 4 hrs 15 this little loaf comes out: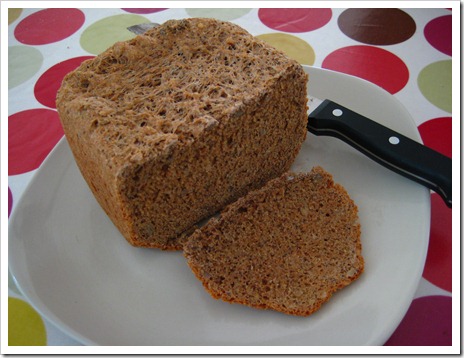 It's a pretty dense loaf, nothing like what you might buy in a supermarket (which I consider to be a good thing). It doesn't rise massively so I've been adding a bit more yeast although this doesn't seem to have much effect. It does have a nice crust which I've struggled to achieve before.
Has anyone tried using bread makers before? Got any tips?!!!