Hello readers, it's been some time! Yes I've been busy over the last month and rather neglected my little loom and blog, but the loom is used to that now. Hopefully I can put it all right…
I finished my wall hanging – I actually finished it the day after I wrote about it which was the end of May, I think. It has turned out quite nicely but I can't help thinking that it works better as a rug which is probably why it's called rug wool!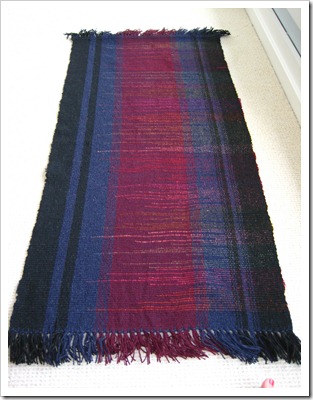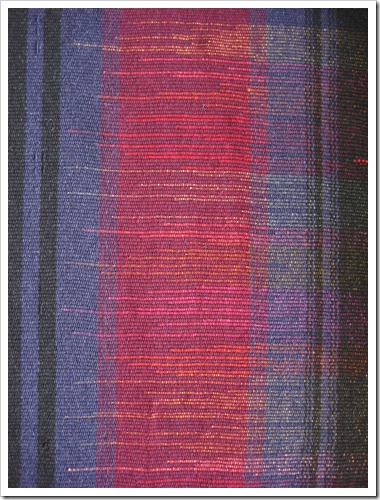 (Oops just spotted some wrong threads in that photo!)  
It's predominantly dark navy so when I held it up to the white wall (they're all white) it appears even darker. It needs a very strong directional light on it to highlight the colours because it contains really bright colours in the weft but the dark warp makes them hard to see under daylight. What it really needs is a nice strong halogen bulb on it but our house, conforming to Building Regs, only has feeble low energy ones. Anyway I rather like the injections of colour, you suddenly see a flash of shrimp or red or olive but then you move your head and it's gone again. As cool as this is, it also has the effect of making it pretty difficult to photograph!
So I finished it but haven't yet got it hung up. Basically I don't know now where to hang it so I'm going to leave it a while and mull it over. It seems to have settled on the floor in front of a sliding door, so maybe that's where it will stay!
I have to say, I do like the Axminster wool which I used on both the warp and weft. You may remember that I had a panic that it wouldn't be strong enough on the warp because you can break it…and it turned out fine, no broken threads. So thank you to Charlotte, Benita and Dorothy for your reassurance.
In fact, I liked using it so much that I ordered a great big cone of it in ecru – you can probably see my thinking there! I have decided to see if I can use the full width of the loom which I have never done before and see if I can't make a rug using clasped weft again but this time in more distinct diagonals. So don't be surprised if you soon see a photo of the dog sitting on the navy one and the ecru one hanging on the wall!