Since my last post. Oh. Dear. That's rather a long time! However I've been busy, promise. Just not on anything terribly crafty, or at least not very much. The little boy is now a big boy and has just celebrated his very first birthday. He is a wonder and a delight.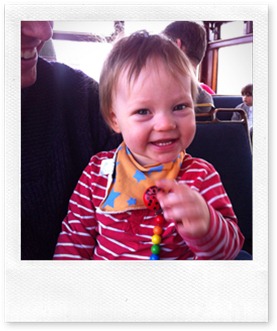 Here he is enjoying his first train ride on the Bluebell Railway in East Sussex last weekend. So he's pretty much been keeping me on my toes and the only bit of weaving I have to show for my year is a little bit of inkle weaving. Yes, dear husband gave me an inkle loom for my birthday (I rather like the pattern of birthday looms, feel free to keep it up darling..) and here is the result of my tinkering: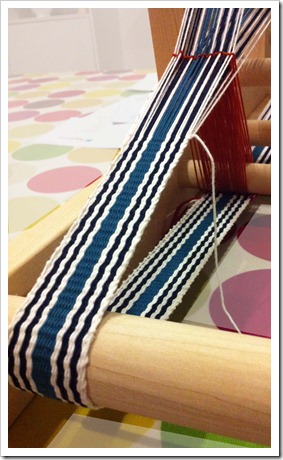 Rather nice and so easy to start with. If I was learning to weave again I would start with one of these – it really is stripped back weaving and you get results in no time at all. Albeit narrow results.
BTW the spots on that surface have now gone – hurrah! Replaced with slick mosaics in a lovely grey. I managed to reign in my plans for a wild worktop based on it not being everyone's cup of tea, including mine.
Same time next year?…